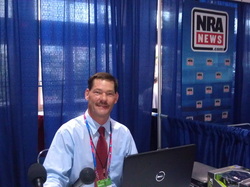 Don Smith is a business executive and fiscal conservative who has been seen on Fox News, CBS, PBS, and also heard on various radio broadcasts around the country. Don takes complex issues facing this nation and breaks them down into an easy to understand format. Tune in every Saturday at Noon ET for all the latest political news, and hear interviews with famous conservatives like Ted Nugent, Allen West, Scott Walker, Jon Voight, Ben Shapiro, Charlie Daniels, Deneen Borelli, Victoria Jackson and many others. The Don Smith Show is one of the leading conservative talk shows on the internet. While the liberal media continues to ignore facts, rewrite history, and suggest that having conservative views makes you a misguided individual, The Don Smith Show is a place where it's always OK to be a conservative.
---
---
Saturday September 27, 2014

Eric Holder has been described as one of the most divisive Attorneys General in history. From dropping the Black Panthers voter intimidation case, to recent comments about the Ferguson police department, Holder has held on to his belief that we are "a nation of cowards." This week Rev. C.L. Bryant joined me live to give us his impression of Eric Holder, and where we go next on race relations in America. National Right to Work attorney Bill Messenger was also here to discuss the recent ruling in favor of the SEIU in Michigan. Of course we had all the latest

political news as well. Listen to the archive at your convenience

here

.
---
Madison Rising is America's most patriotic band. Check out their latest album "American Hero," to hear an amazing rendition of The Star Spangled Banner that has received more than 5 million views on YouTube.

---

Help our military veterans today by contributing to All American Veterans Services, a non-profit organization that helps veterans start new businesses. AAVS is an all volunteer organization that provides those who sacrificed so much, a chance at the American dream.

---